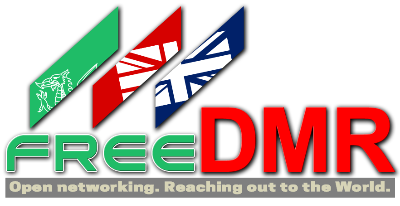 Connect via the FreeDMR Network
FreeDMR Global Network: TG23525
FreeDMR Scotland (FreeDMR_UnitedKingdom_Scotland): TG23525
We are very grateful to Simon, Norman and the team at FreeDMR for allowing us to bring our network to the FreeDMR Global Audience.
---
The Extended Freedom Network is also proud to be the host of the FreeDMR Scotland Server;
Pi Star DMR Host Name: FreeDMR_UnitedKingdom-Scotland
Hostname: freedmr.m0xfn.radio or freedmr.extendedfreedom.network
Dashboard: http://freedmr.m0xfn.radio
Port: 62031
---
Via this server it means as well as the Extended Freedom Network on TalkGroup 23525 we are also able to feed into the FreeDMR Global Network;
CQ-North on TG2345

Scout Radio Network via FreeDMR TG907

---
Did you Know!
You can access EVERY Talkgroup on the Global FreeDMR System via the Extended Freedom Networks DMR Server FD_GB_XFreedom_Net just key up via your connected system as normal. No TG Rewrites required.
So if you use the XFN DMR Server - Not only do you get every FreeDMR Talkgroup Globally, But you also get our range of Digital & Multimode Connections, access to our range of Interesting International Talkgroups. It's a one stop shop!